Save Cornwells Heights
---
Campaign Information Page
for Rick Booth's Run for the Amtrak Board of Directors
<![if !supportEmptyParas]>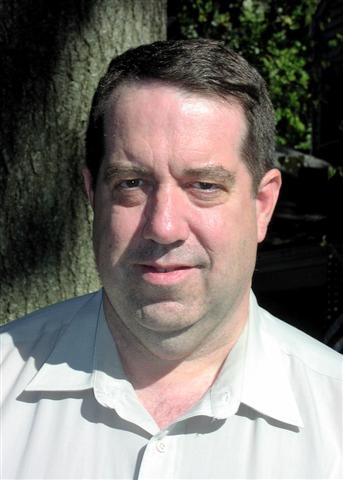 Welcome.  And yes, I'm absolutely serious about running for the Amtrak Board of Directors.
<![if !supportEmptyParas]> <![endif]>
If the press is interested in a good man-against-the-system story, I'll certainly try to provide it.  On September 20th, 2005, the Philadelphia Inquirer ran a very nice article about the way I led the save of the Cornwells Heights station from abandonment.  The one thing, though, that I didn't much like about the article was that the Inquirer seemed to go somewhat out of its way to try to make it read like a "Rocky" story.  About all they said about my career was that I program computers and am a "medical school dropout," implying I couldn't cut it there as a doc and now eke by with a second choice career in computing.  What they didn't mention is that I went to school with the likes of Bill Frist and Joshua Bolten at Princeton, graduated with a nominal 4.01 (probably in the top 5, though Princeton doesn't publish official rankings) and a boatload of honors, did two years just fine at Columbia's medical school in New York, and in 1979, with the first phase of the personal computer revolution just starting, I decided I had to take the chance and join it then because I couldn't stop daydreaming about the things – especially educational things – they would enable people to do in the future.  Self-taught in computing, I have two books on Amazon.  I actually think I've got a good shot at helping to reform Amtrak and correct the outrageous harming of 2,000 job commuters who used to trust Amtrak before Amtrak and the politicians decided to throw the commuters off the rails because we are "insignificant" in numbers and expendable. I can't not try.
<![if !supportEmptyParas]> <![endif]>
It's a really lousy feeling to save the station one day and watch a second Amtrak injustice wipe out my fellow passengers the next.  Let stand, Amtrak's 77% year-to-year fare hike (the equivalent of a $9,373 pay cut for most Philadelphia-to-New York commuters) could leave me being one of the last commuters still using the station a year from now.  What kind of "hero" puts up with that?
<![if !supportEmptyParas]> <![endif]>
I'm pretty sure my next book will be about Amtrak in one form or another.  Since getting into advocacy with a vengeance, I've enjoyed rediscovering how much I enjoy writing.  But I digress…
---
Links, Links, Links!
<![if !supportEmptyParas]> <![endif]>
For background on the horrendous Amtrak decisions and policies that have led me to this point, please have a look at this website's archives.
<![if !supportEmptyParas]> <![endif]>
Here's the letter I wrote to Mr. David Hughes on February 12th asking him, as the responsible individual of last resort, to stop the February 16th monthly pass fare increase.
<![if !supportEmptyParas]> <![endif]>
I happen to think Amtrak runs a great service with great people – at least the ones that run the trains.  To see how I would prefer to praise and defend Amtrak, please see my other website, still in its earliest phase of development and not yet fully "up," but available at www.understandingamtrak.com.
<![if !supportEmptyParas]> <![endif]>
Here's my résumé.
<![if !supportEmptyParas]> <![endif]>
Here's the 22-plank platform on which I am running for the Amtrak Board of Directors.  Please note that in item 22 of the platform I invite anyone to ride the train with me and talk rail.  That includes members of the press, politicians in transit, and ordinary riders.  There has probably never been a member of the Board of Directors of Amtrak with 150,000 miles of Amtrak experience under his belt, and I intend to be open for access on train time.
<![if !supportEmptyParas]> <![endif]>
Here's the 8-page cover letter I sent to President Bush.
<![if !supportEmptyParas]> <![endif]>
Here's the present Amtrak Board of Directors which runs with three out of seven seats empty.
<![if !supportEmptyParas]> <![endif]>
Here's the letter I sent to Mr. David Laney, Amtrak's Chairman of the Board, more than a month ago.  He's a very busy Dallas, Texas lawyer, and I've been assured by his secretary that he has no time to speak with me, probably ever.  I changed one name in the letter to "John Doe" for some obvious reasons.  His office phone is 214-953-5937.
<![if !supportEmptyParas]> <![endif]>
Here's the letter I sent to our U.S. Secretary of Transportation, the Honorable Norman Mineta.  He has not responded.
<![if !supportEmptyParas]> <![endif]>
Here's the letter I sent to Mr. Jeffrey Rosen, the DOT's General Counsel, who attends Amtrak Board meetings in Mr. Mineta's stead, even though he himself is not officially a Board member.  He delegated the job of trying to brush me off to Mr. Terence Carlson, a very pleasant DOT lawyer at 202-366-9152.  As pleasantly as possible, I have refused to be brushed off and requested that Amtrak at least issue a policy statement for commuters to let us know if it's safe to at least expect that there won't be another 77% fare hike this year.  He has only gotten back to me with one question relayed from Mr. Rosen, "Have you been able to get in touch with Mr. Laney?"  In answer, I told him that in truth, I believe Mr. Laney is hiding behind his secretary, so to speak.
<![if !supportEmptyParas]> <![endif]>
Here's the letter I sent to Mr. Floyd Hall, one of the two mystery Board members who came to it with no transportation experience and who appears to have never spoken on the record – at least that I can find – about passenger rail issues.  Nobody seems to know what he does there.
<![if !supportEmptyParas]> <![endif]>
Here's the letter I sent to Mr. Enrique Sosa, the other mystery Board member.  Not only does he have no transportation experience, he was reported to have told Senator Frank Lautenberg that he had never set foot on an Amtrak train before he was nominated to the Board.  Nobody knows what he does there either.
<![if !supportEmptyParas]> <![endif]>
One exercise that I find particularly helpful in understanding how these men found themselves tossed together on the stormy seas of rail transportation  is something I call "Follow the Money."  A great site to do it on is www.fec.gov, the website run by the Federal Election Commission.  The key election donor names to look for are "David M. Laney," "Floyd Hall," "Enrique J. Sosa," and "Jeffrey A. Rosen."  To help distinguish these men from others with similar names, note that Mr. Laney resides in Dallas.  Mr. Hall resides in Montclair, New Jersey.  Mr. Sosa has homes in both Chicago and Key Biscayne, Florida.  And Mr. Rosen lives in McLean, Virginia.  Another good site to check is www.fundrace.org.
<![if !supportEmptyParas]> <![endif]>
You can also go to www.whitehouse.gov and search for Floyd Hall Amtrak and Enrique Sosa Amtrak.  It appears that Mr. Hall was first appointed on September 12, 2003, and Mr. Sosa on February 6, 2004.  Neither has been confirmed by the Senate.  Neither one showed up when asked to come before the House Rail Subcommittee in November to explain the decision to fire Mr. David Gunn as the president of the railroad.  Not only did they not show up, but they sent no explanation for their absence, and Mr. Laney said he did not know where they were or why they were missing.  I have the 4-hour video tape of the hearing as it was broadcast on C-SPAN, in case anyone wants a look at the empty chairs.  Mr. Gunn explained his firing quite well in an NPR interview available online.
<![if !supportEmptyParas]> <![endif]>
<![if !supportEmptyParas]> <![endif]>
There is a lot to read here.  I hope someone from the press finds it worth a major story, because that's what it may take to start to fix Amtrak – and attempt to undo the damage already done to the commuting communities Amtrak spent decades building, only to discard them of a political whim.  No government-funded agency should ever treat the public with such disdain and disregard.
<![if !supportEmptyParas]> <![endif]>
<![if !supportEmptyParas]> <![endif]>
By way of closing thoughts, one thing that may surprise you about a lot of my writing is that it is "spiritual" in nature.  If you read the letter I wrote to President Bush, you may come away thinking I'm Catholic.  I'm not.  But faith and spirit mean a lot to me, both less and more than you might expect from hearing words like "faith" and "spirit" as I just wrote them.  Fighting for the station and the people who use it has been an intensely spiritual experience much of the time, and I've learned an awful lot that has nothing to do with rail in the process.  I've only written of a small fraction of the things that have touched me most deeply, but you can see some of them at these links: The City of New Orleans, The Old Telegrapher, Remembrance and "Recessional", In the Beginning…and The Saint and the Station.  If anyone in the "spiritual press" business wants a story far stranger and more curiously flecked with hope than even the saving of an old whistle stop, come sit with me on the train, or speak with me far into the night.  I think my wavelength is much closer to Jimmy Carter's or Timothy Johnson's than to a Jerry Falwell or a Pat Robertson.  But even if Pat shows up, I'll talk and be grateful for the company, even if I do get blamed for the Flood.  ;-)
<![if !supportEmptyParas]> <![endif]>
If anyone wants to ride the train with me and talk, just call my cell at 215-837-6557 and let me know.
<![if !supportEmptyParas]> <![endif]>
Take care and be well.
<![if !supportEmptyParas]> <![endif]>
 – Rick
<![if !supportEmptyParas]> <![endif]>
<![if !supportEmptyParas]> <![endif]>
<![if !supportEmptyParas]> <![endif]>
<![if !supportEmptyParas]> <![endif]>
<![if !supportEmptyParas]> <![endif]>
<![if !supportEmptyParas]> <![endif]>
<![if !supportEmptyParas]> <![endif]>